Shadow Raiders was an animated television series produced by Mainframe Entertainment that aired from 1998 to 1999. The series focuses on the four warring planets of a solar system called the Cluster as they are forced to set aside their differences and form an alliance against the terrible threat of the Beast Planet.
Contribute
96 articles since 15th February, 2011
This wiki needs fans of the series to help fill out the content that is missing! Click the edit button at the top of any page to get started, or check out the list of Article Stubs and Wanted Pages!
Not sure where to start?
Featured Article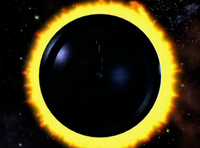 The Beast Planet is a space station of incredible size, larger than all significant solid solar bodies including worlds such as Tek and Fire. Its origin is unknown, as its true purpose as it travels around the universe consuming planets, earning it the name Eater of Worlds.
Ad blocker interference detected!
Wikia is a free-to-use site that makes money from advertising. We have a modified experience for viewers using ad blockers

Wikia is not accessible if you've made further modifications. Remove the custom ad blocker rule(s) and the page will load as expected.